基本的にはTwitterの情報が早いのでそこを追うのがいい。
Sponsored
Krakenの上場順
5/24 BNT バイナンスでずっと前に上場済み
SUSHI
ANKR
5/17

RARI 逆
5/17GHST
5/17MATIC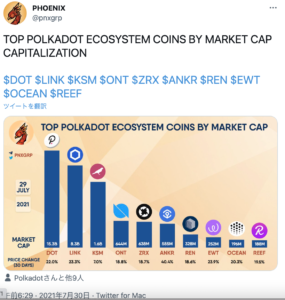 2020
12/15 MANA
12/15 AAVE
チャートは良いけど上値が重そう。上場がかなり前だから
11/24 KEEP
8/16 DOT
BINANCE
7/24 QUICK

意外といい感じ
7/6 BOND
枚数増やしすぎ
2019年に設立されたBarnBridgeは、リスクをトークン化するためのプロトコルです。一種の分散型ファイナンス(DeFi)レゴです。
7/6 MLN
6/23 ERN NFT銘柄
6/18 KEEP
これも枚数の増え方が異常なので避ける
@keep_project is a privacy layer for Ethereum that aims to bridge public blockchains and private data.
is a decentralized, non-custodial privacy solution built on #Ethereum
6/11 GTC
is building and funding digital public goods. Gitcoin pioneered the use of quadratic funding and is the largest independent platform to fund open source projects of the crypto ecosystem.
7/20 に底
6/5 NU
enables public networks and dApps to access a data encryption and protection layer without having to rely on a central service provider.
5/29 LPT
network serves as the video infrastructure for developers to power their live streaming applications.
5/24 MDX
価格は下がっているが配布料が多すぎるのでチャラ
is an Automated Market Maker Decentralized Exchange on #BinanceSmartChain that aims to create a high-performance DEX ecosystem and provide multichain support.
5/15 AR
is a storage network built on a decentralized network structure called "blockweave technology".
底値からだいぶ上がってしまっているので、買うのはためらわれる
5/12 ICP
Foundation and aims to become 'a blockchain network that evolves the internet'.
5/11 SHIB
is an experiment in decentralized community building and another meme coin similar to $DOGE.
4/24 FORTH
Governance Token is the native ERC-20 governance token of Ampleforth, which is an algorithmic stablecoin with a fluctuating supply.
4/20 MIR
is a #DeFi protocol that enables users to mint mirrored assets (mAssets).
いい感じに下落しているので買い
4/3 EPS
is a decentralized exchange that allows for the swapping of stablecoins with low slippage and minimal fees on #BinanceSmartChain
驚きの下げ方。0.3くらいが底だったようで、
出来高がもりもり回復してきているので、狙い目かもしれない
4/3 AUTO
is a yield farming aggregator running on #BinanceSmartChain. It was designed with the purpose of optimizing DeFi users' yields across various dApps in the DeFi space.
配布トークンなので無視
3/30 CFX
is a scalable and decentralized blockchain network that aims to have high throughput and fast confirmation.
底値近かったので購入
3/26 SUPER
provides a multi-chain #DeFi and NFT infrastructure environment.
3/23 RAMP
helps users to maximize their capital efficiency and unlock liquidity on staked digital assets.
3/20 PERP
is a decentralized perpetual contracts protocol for every asset, made possible by a virtual Automated Market Maker.
3/18 LINA
is built on both #BinanceSmartChain and Ethereum. It allows users to cost-effectively and quickly create, trade, and manage synthetic assets (Liquids).
3/17 BIFI s a yield farming optimizer on #BinanceSmartChainwhich automates investment strategies utilizing liquidity pools.
3/10 DEGO
is a cross-chain NFT+DeFi protocol & infrastructure, with an open NFT ecosystem where anyone can mint NFTs, initiate NFT mining, auctions, and trading.
3/10 PONDis a layer-0 protocol that provides high-performance network infrastructure for decentralized blockchain networks.
3/9 OM
is a community-governed #DeFi platform focusing on staking, lending, and cross-chain DeFi products.
3/4 FIS
is a DeFi protocol that unlocks liquidity of staked assets.
2/27 TVK
is a cross-platform, blockchain-based ecosystem for sharing, trading and interacting with digital collectibles.
2/26 PHA
is a privacy-preserving cloud computing service, which offers computing power comparable to existing cloud services and protects the privacy of managed programs.
2/25 ACM Fan Token (#ACM) is a utility token that gives AC Milan Football Club fans a tokenized share of influence on team decisions using @socios
2/24 UFT Dいる
is a permission-less #DeFi protocol that combines spot trading and lending/borrowing functionality within the same platform. 
2/19 FXS is a fractional algorithmic stablecoin partially backed by collateral and partially stabilized algorithmically.
2/4 PROS
1/28 CKB
1/28 TWT
1/22 DEXE
1/21 TRU
1/9 RIF
1/6 CELO
12/26 1inch
12/29 GRT
12/12 DF
12/9 AAVE
12/1 SKL skale
11/27 PROM
11/26 HEGIC
11/20 ROSE
is a decentralized blockchain network built by Oasis Labs that enables secure and private data-sharing and control.
11/18 FOR
The Force Protocol is a #DeFi service protocol built on #BinanceSmartChain and #Ethereum.
11/17 CVP dいない
aims to allow token holders to lend, pool, and borrow Governance Tokens, which are tokens granting holders governance voting rights for their respective protocols.
11/11 SLP
11/4 KP3R
11/3 AKRO
10/30 BOT bounce finance
10/24 EASY easyfinetwork
10/3 UTK dいる
is a payment integration solution that allows e-commerce businesses to accept digital currencies as a form of payment.
9/26 HNT
Helium is a peer-to-peer wireless network that aims to provide a secure and cost-effective way for low-power Internet of Things devices to interact with the internet.
9/23 AVAX
9/22 OXT
The Orchid network aims to enable a decentralized Virtual Private Network, allowing users to buy bandwidth from a global pool of service providers.
9/18 UNI
9/17 CREAM
8/29 BZRX
8/27 TRB
8/26 WNXM
8/25 PAXG RSR
8/22 IDEX
8/19 DOT LUNA
8/17 NMR OCEAN
8/14 CRV
8/13 ANT
8/11 SRM
8/11 JST
8/10 YFI
8/6 BAL
8/5 AVA travera
7/31 FIO
7/24 RUNE
7/23 MKR DAI
7/21 IRIS
7/17 VTHO
7/9 SNX
7/7 SXP
6/30 BIDR
6/25 COMP
6/22 DGB
6/18 IQ
4/27 HIVE
4/16 IDRT
4/14 SOL
2/25 COTI
2/21 MBL
2/6 LTO
1/20 TCT
1/16 DREP
1/7 OGN
2019
12/20 FTT
8/20 COCOS
7/23 ANKR
6/21 ALGO